【Video】LASBOS card 007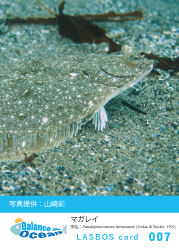 Pseudopleuronectes herzensteini (Jordan & Snyder, 1901).
It inhabits in the coastal area north of Yamagata Prefecture and Fukushima Prefecture, and around Hokkaido, Japan. It is characterized by a lack of morphological features as a flounder, and it is very similar to marbled flounder. The blind side (white side) has pale yellow lines, but some individuals do not have it (marbled flounder does not have any yellowlines). The small protuberance between the eyes is slippery and scaleless (there are scales on marbled flounder), the overall body color is brown (green), and scales are larger and its body is thinner than marbled flounder. Eggs are pelagic and non-cohesive. Good fat and delicious from summer to autumn. Good for boiled. Large fish can also be eaten with sashimi (marbled flounder is also delicious, and in summer it becomes a substitute for the Japanese flounder Paralichthys olivaceus (Temming et Schlegel)).
マガレイ
学名:Pseudopleuronectes herzensteini (Jordan & Snyder, 1901)
山形県と福島県より北の海域、北海道周辺に生息。形態に特徴がないのが特徴で、マコガレイによく似る。白い方の無眼側の後方に薄い黄色の帯が現れることがあるが、ない個体もいる(マコガレイには絶対黄色い筋は入らない)。両目の間の隆起はツルツルしていて鱗がなく(マコガレイには鱗がある)、体色は全体的に茶色(同緑色)、ウロコはマコガレイよりも大きく、身が薄い(同厚い)。卵は分離浮遊性(粘性沈着性)。夏から秋に良く太り美味。煮つけ。大型魚は刺身でも食べられる(マコガレイも美味く、夏はヒラメの代用になる)。