【Video】LASBOS card 005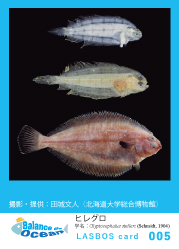 Glyptocephalus stelleri (Schmidt, 1904).
It lives in the sea around Hokkaido, the Sea of Japan north of Yamaguchi Prefecture, the Pacific Ocean north of Choshi that East Chiba Prefecture, and offshore of Sakhalin and Alaska. Its body is long, thin and slightly thin. The body surface is slimy. The mouth is very small, eating small amphipods and polychaetes. It's slightly delicious when you dry it and grill it. The name originates from fins that all of those are black. Another species of willowy flounder Tanakius kitaharae (Jordan & Starks, 1904) inhabits the northeastern region without black fins, and this dried adult females are exquisite and very high-grade fish (G. stelleri is inexpensive).
ヒレグロ
学名:Glyptocephalus stelleri (Schmidt, 1904)
北海道周辺、山口県以北の日本海と東千葉県銚子以北の太平洋、サハリン、アラスカ州の沖合に生息。長細く身はやや薄い。口はとても小さく、小型のヨコエビ類や多毛類(イソメの仲間)を食べる。体表はぬめりがある。干してから焼くとそこそこ美味しい。すべてのヒレが黒いのが名前の由来。ヒレが黒くなくて東北地方以南に生息するのは別種のヤナギムシガレイで、この雌成魚の干物は絶品で超高級魚(ヒレグロは安価)。