【Video】LASBOS card 004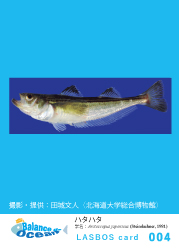 Arctoscopus japonicus (Steindachner, 1981).
Living in the vicinity of Hokkaido and off the coast of the Sea of Japan. It has the back of straight, the abdomen protrudes and the large pectoral fins. It to have upturned eyes and socket, there are spines at the gill lids. Since there are no scales, it is easy to cook. Adult male fish jump out a generative organ when pushed over the anus. Dive into sand at a water depth of 100 to 400 meters during the daytime and wait for the krill to pass through and prey. In November-January, they migrated to the coastal waving area and laid ball-shaped eggs (buriko) on brown algae of the order Fucales. Be aware that in Akita and Aomori Prefectures, picking up and bringing back the buriko-eggs launched after the sea rages will arrest them. Briko hatches normally when returned to the sea. Tasty.
ハタハタ
学名:Arctoscopus japonicus (Steindachner, 1981)
北海道周辺、日本海沖合に生息。背中は直線状でお腹が出ており、胸鰭が大きい。上目遣いで受け口、鰓蓋に棘がある。鱗はないので調理しやすい。オス成魚は肛門の上を押すとおちんちんが飛び出す。昼間水深100~400mの砂に潜って上を通過するオキアミ類などを待ち伏せ捕食する。11~1月には沿岸波打ち際まで回遊し、ヒバマタ目褐藻にボール状の卵(ブリコ)を産卵。秋田県と青森県では、シケのあとに打ち上げられたブリコを拾って持ち帰ると逮捕されるので注意。ブリコは海に戻すと正常ふ化する。美味。