【Video】LASBOS card 003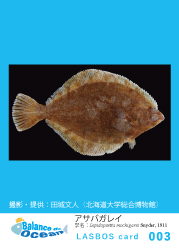 Dusky sole (Lepidopsetta mochigarei Snyder, 1911).
Dusky sole lives in the vicinity of Hokkaido, the Pacific Ocean to the north of Miyagi Prefecture, and the coast to the north of Fukui Prefecture, Japan. The eyes are on the right side. Higher body height and smaller mouth than other right-eye flounders. The Y-shaped lateral line near the eyes that easily distinguishable from other flatfish species. The female's ovary before oviposition is large and palatable when it boiled. Small fishes would be good for fried.
アサバガレイ
学名:Lepidopsetta mochigarei Snyder, 1911
北海道周辺や、宮城県以北の太平洋、福井県以北の沿岸に生息。カレイ類なので目が右側にある。体高が高く、口は小さい。目の近くの側線がY字型に枝分かれすることで、他のカレイ類と簡単に区別できる。産卵前の雌の卵巣が大きく、煮つけが美味しい。小型魚は唐揚げ。