【Video】LASBOS card 006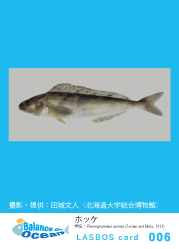 Pleurogrammus azonus (Jordan and Metz, 1913).
It also inhabits the southern coast of Honshu Island, such as Mie Prefecture, a little, but mostly inhabits the northeast region and the coast of Hokkaido, Japan. Small-sized fishes are seemed to be everywhere at once and migrate, while large-sized fish become non-wondering in coastal reefs. The spawning season is around November, when males form territories on coastal rocks and induce females to lay eggs. Afterwards, the male does not eat in 50-60 days until the eggs hatch, but the female does not take care of the eggs. Females often prey on their eggs. Although the catch has been decreasing recently, the dried fish of this species is indispensable for taverns in Japan. Tasty.
ホッケ
学名: Pleurogrammus azonus (Jordan and Metz, 1913)
三重県などの本州南岸にもほんの少し生息するが、ほとんどは東北地方と北海道沿岸に生息。小型魚は神出鬼没で回遊するが、大型魚は沿岸の魚礁などに住み着く「根ボッケ」になる。産卵期は11月前後で、沿岸の岩場にオスが縄張りを作り、メスを誘って岩の隙間に産卵する。その後卵がふ化するまで50~60日間オスは飲まず食わずで卵の世話をするが、メスは食事のためにとっとといなくなる。メスは卵を捕食することもしばしば。最近漁獲量が減っているが、居酒屋にはホッケの開きが欠かせない。美味。